Our Podcasts
Online Ordering
Confused about 3rd-party Online Ordering? Concerned about high 3rd-party fees? Listen to our 5-minute Podcast and learn how to make Online Ordering, a necessity in today's times, work for you!
Delivery Toolkit
Delivery is an essential aspect of your restaurant business–and it's not going away!  Our innovative PDQ Delivery Toolkit smartly combines essential aspects of delivery and places them into one powerful, easy-to-use iOS/Android app.  In this 9-minute podcast you'll learn how the Delivery Toolkit enhances service, lowers costs and gives you valuable insight into the entire process!
(click on the image below to learn even more!)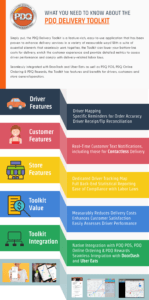 Labor
Measure. Understand. React.  A great POS system should amass labor data, provide all-inclusive labor reporting, offer holistic labor cost monitoring and labor forecasting (via sales forecasting), seamlessly integrate to top tier scheduling providers & have the latest cost-containing innovations in hardware, software and services. (6 minutes)
Enabling Success
Our loyal customer base encompasses an acclaimed 2800+ nationwide gourmet sandwich franchise, hundreds and hundreds of single store restaurants/pizzerias and everything in between.  Regardless of size, scope or concept, PDQ POS truly enables success.  Learn how! (3 minutes)
Third-party delivery?  In-house delivery?  And three things your POS needs to do well in order to be successful… (6 minutes)
What Does Native and Seamless Integration Mean?
What is native integration?  What is seamless integration?  And how are they different? (5.5 minutes)
Cloud vs. Traditional POS
Pure cloud-based POS sure gets a lot of attention these days. But it is really the best platform for your stores? Learn the real difference between cloud and traditional POS and how a hybrid approach will allow you to embrace the cloud without being dependent on it! (3 minutes)
(click on the image below to learn even more!)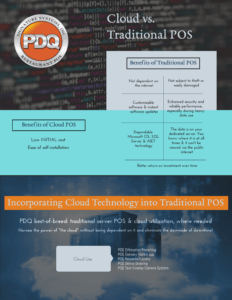 Professional Services
Need menu management or support after hours? Many POS providers charge a LOT extra for Professional Services such as menu creation/updates and weekend/holiday services. But not at PDQ! We include most everything under our low cost monthly maintenance structure. And that's another reason why we have the MOST SATISFIED customers in the business! (3.5 minutes)
Hardware
Can you use your existing hardware with PDQ POS software? Perhaps… BUT here's what you should know before you ask. After all, it's all about performance, isn't it? (3 minutes)
Help Desk
All POS vendors have Help Desks of some variety. But the differences between them are numerous. From a financial aspect (is 24x7x365 support included in the regular maintenance fee or are off-hours/weekends/holidays extra?) to staffing (do they answer their phones?) to technological prowess (can they resolve most issues on the initial call?), all Help Desks are NOT created equal! (4 minutes)
In-House Development
When it comes down to basics, a POS is only as good as the software that runs it–and the vital task of writing the code that makes it work falls on the Development Team, a specialized group of highly talented "coders." While many POS providers outsource their development or utilize a team that's located 'off-shore', PDQ POS maintains an in-house programming staff. Learn why this better for both the product and for you, the end-user. (4.5 minutes)
Shopping for Value
Everyone wants value in a product or service.. But what is "value" and how is it measured? And how does cost affect value…or does it? Learn how to look for–and find–value when it comes to buying a POS system for your business.  (9 minutes)
---
Contact us today to learn more (and get a no-cost business consultation) from our POS experts!
---