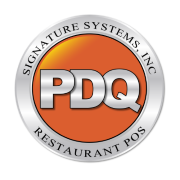 P
DQ Point of Sale

Pizza POS | QSR POS | Fast Casual POS

Christian Johnsen
Blue Moon Bakery, Restaurant & Pizzeria
Owner
We spent a lot of time looking over many POS systems to find the right fit for our quick service and delivery pizza shop and bakery. We chose PDQ POS from Signature Systems because they were designed by a pizza guy for a pizza/delivery operation and had the best features to fit our business. After a couple years of continued operational success and growth, we know we made the right choice!
The PDQ pizza POS system is perfect for our operation. PDQ streamlines our customer interactions and helps us move our customers through the counter line and helps our employees take delivery orders quickly and efficiently. When we first started rockin' the PDQ system, we increased our employees accuracy and efficiency immediately when dealing with phone and delivery orders. Thanks to PDQ POS, we can now process more orders more quickly and easier and get our food to our customers faster!
Their 24x7x365 service and support has been excellent. The on-site installation specialist was professional and knew the system inside and out. He stayed until we were up and running and the phone support has always solved our few tweaks on the spot. We couldn't be happier with our experience.
The PDQ pizza POS system has made us more money with less hassle than our previous POS system and we would recommend it without reservation. We can confidently say that we made the right choice when we chose PDQ!