PDQ POS POINT OF SALE SYSTEM
THE #1 RATED ALL-CONCEPT RESTAURANT POS
QSR | Pizza | Fast Casual | Full Service | Delivery | Bar | Specialty | Retail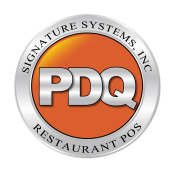 Custom Cloud/Hybrid Solutions
Independents/Franchises/Chains
From Single Stores to Thousands of Locations, Our Restaurant POS Does it All!
"I would like to comment on our experience with PDQ. We are a unique entity with a list of very unique software needs. Over the years, several companies have tried to build a workable system for us and failed.  I came to you and personally detailed the complexity of the task at hand, and I stated that if you did not want to take us on, we would understand. You took on the job, waded through our long list of changes, and shaped a product that can work for us. That is what we had to have in order to accommodate our customers, whom we have spoiled for 34 years, and we know it was a tall order." 
"From all of the Steak-Out family here in Huntsville, thank you. We are impressed!  You should also know that Chris and Tony represented PDQ at the highest level. I know they had to be tired during the installation process, but they never missed a beat. Their workmanship is to be commended, and their attention to detail is greatly appreciated. The level of software knowledge and their ability to teach was also very strong.  New systems create stress, and I always dread it, but they made it a lot more tolerable and we will always remember them for that. They were super!"
"Again, thanks to everyone for making this happen. We asked for a lot, and you pulled it off.  To us, you are special."
Danny, Director of Training, Right Way Restaurants, Inc.
"When it comes to POS, Signature Systems is the best company with the best people I've ever worked with during 21 years in the food industry."
"The non-stop dedication from everyone, especially Mike, Chris and Kat, has made me proud to have switched to PDQ. Of course after my experience using your system I can affirm that Signature Systems is the NUMBER ONE company in the USA because your software, equipment and professional service really helps restaurants grow and be successful."

"I will always recommend your company to any food business owner or manager. THANK YOU, THANK YOU and THANK YOU!"
Said, Solano Restaurant & Pizzeria
"I have a full service restaurant with a bar. We also do delivery, food and beverage take out and online ordering. I'd be lost without my PDQ POS system–it does everything I need it to do. It's fast, simple to use, and the reporting gives me all the data I need to make the right business decisions. Great service. Great support. Great people!"

Dinah, Old Antlers Inn
"A major key to our success as a rapidly growing, nationwide Quick Service Restaurant has been our PDQ POS system and its continued ability to provide us with all of the leading-edge hardware, software and cyber security solutions we need to outshine the competition. PDQ's service and support team truly goes the extra mile whenever we need them and their sales/operations staff demonstrates a commitment to excellence. Bravo, PDQ…you have a customer for life."

"PS: We couldn't be the BEST in delivery without PDQ POS!"
COO, Nationwide QSR
"We originally got PDQ POS on a recommendation from a PDQ user who also had a single store pizzeria–and we're glad we took the advice. As 'promised,' we've been selling more food, saving a lot of time and effort, and lowering our costs. We recently opened a second location–and plans are underway for a third!  (BTW, my friend who recommended PDQ now has two successful locations as well!)

Jimmy, Santucci Pizza
Why Do Experts Say PDQ POS Is The Best All-Concept POS?

Vito Russo
Riccardo's Pizza & Italian Restaurant
Owner
I own an Italian Restaurant and Pizzeria in Browns Mills, NJ and I have been with PDQ Signature Systems for over 10 years now! I cannot begin to tell you what a great company they are. PDQ POS is, by far, the best restaurant and pizza POS system I have ever worked with. It is fast, accurate and very simple to use.
Anytime I've had an issue, they are there for me–whether it's on the phone or on site. If something breaks they are quick to send out a loaner until your issue is fixed! I am on my second system and I will remain a loyal customer of PDQ POS systems.
My business has increased tenfold and there is very little to no theft and that is what an owner looks for. I urge everyone to give this company a consideration, because you will not find a better POS company to deal with.
Chris was my salesman and he was always there for me if I needed to speak to him with his personal cell phone! Whether you have a pizzeria, quick service restaurant or table seating, I highly recommend the PDQ POS system to anybody looking to increase their business and take it to the next level.
Thank You PDQ!
